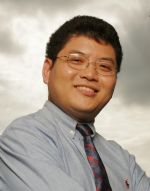 About the Presenter:


Dr. Colin Tan Siang Hui graduated from the National University of Singapore in 1999. He obtained his Master of Medicine from his alma mater in 2004, and became a Fellow of the Royal College of Surgeons in 2007.

Currently, Dr. Tan is a consultant ophthalmologist and a clinical researcher at Tan Tock Seng Hospital in Singapore. He completed a fellowship in Medical Retina and Retinal Imaging at the Doheny Eye Institute of University of Southern California in Los Angeles, United States. Dr. Tan not only manages patients with various kind retinal conditions, such as age-related macular degeneration, diabetic retinopathy, polypoidal choroidal vasculopathy and retinal vascular diseases, but he also treats a variety of eye conditions and performs ocular surgeries, such as cataract extraction.

In recognition of Dr. Tanís strong interest in research, he has received the National Healthcare Group Clinician Leadership in Research (CLR) and the Researcher Investigator Scientist Enabler (RISE) awards. In addition, he was also granted numerous academic and scientific awards, such as the Clinician Investigator Award and the National Healthcare Group Eye Institute Alcon Research Prize. Dr. Tanís research interests include vitreoretinal conditions, such as age-related macular degeneration, cataract surgery, diabetic retinopathy, epidemiology, myopia and its complications and retinal imaging techniques. Dr. Tan has over 100 publications in top international journals, such as Ophthalmology and Investigative Ophthalmology, and presented internationally, such as the annual meetings of the American Academy of Ophthalmology (AAO), Association for Research in Vision and Ophthalmology (ARVO), American Society of Retinal Specialists, and American Society of Cataract and Refractive Surgeons (ASCRS).

With a passion in teaching, Dr. Tan is a Clinical Lecturer at the National University of Singapore Clinical Faculty Scheme, where he has received education awards, such as the Deanís Award for Excellence in Teaching.